I LOVE to eat but not to cook!  I'd rather be on the tennis court than in the kitchen so recipes that are easy work best for me.  This page highlights some of my favorite recipes for good, healthy, plant-based foods.
Smoothie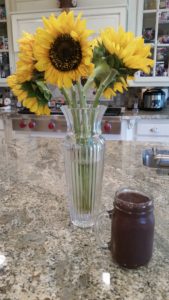 I have a smoothie most every day for breakfast because it really gets me started with a lot of energy and keeps me full for at least 4-6 hours.  Below is my 'Go To' smoothie at half size.  Double up for my 32-38 oz. giant…
1 C almond milk (unsweetened)
1-2 oz/handfuls leafy greens (spinach, Kale, arugula, cress, etc)
1/2-1 C frozen berries (mix it up)
1 T ground flaxseed
1 serving Vegan protein powder
Juicing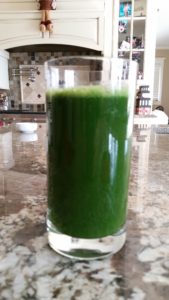 I juice 1-2 times a week.  My favorite juice is the Mean Green Juice popularized by Joe Cross in his documentary "Fat Sick and Nearly Dead".  I double the recipe linkedbelow to make 3+ 16 oz. drinks and store the extra for up to 2 days.  The only change I make is to use a full lemon when doubling the recipe and only use 1/2 lemon for single recipe.
https://www.rebootwithjoe.com/mean-green-juice/
Some of my favorite vegan recipes…
Soul-soothing African Peanut Stew (Angela Liddon)
Indian Lentil-Cauliflower Soup (Angela Liddon)
*indian lentil cauliflower soup is good hot or cold (right from the fridge), I've had it both ways
Crowd-pleasing Tex Mex Casserole (Angela Liddon)
**tex-mex casserole – use the cheese sauce from broc/cheese soup (below) if you don't like cheese alternative (Daiya). I've done it both ways.
Vegan Broccoli and Cheese Soup (Angela Liddon)
Egyptian Red Lentil Soup (Genius Kitchen)
**i use EVOO (Extra Virgin Olive Oil)  instead of canola oil
Vegan Butter (A Virtual Vegan)
Pumpkin Gingerbread Muffins (Angela Liddon)
Vegan Banana Bread (Angela Liddon) – I'm a banana bread snob and this is delicious
Quick and Easy
I make vegan pizza using cauliflower crust (Trader Joe freezer) or sourdough crust (Whole Foods) using a great sauce of choice and topping with roasted zucchini, peppers, onions, mushrooms, olives – whatever veggies I've got- and topping w/Daiya cheese, just a little. Bake at 400ºF. Yum!
I roast awesome veggies (any variety) in the oven at 400ºF.  Single layer on cookie pan, drizzled with EVOO and salt/pepper.
Saute spinach and other greens on the stove with EVOO and fresh minced garlic. So good!
Roasted Brussels sprouts are awesome, especially the crispy leaves that fall off when you trim the sprouts! Mix them with EVOO, salt and pepper (try 1 1/2 lbs Brussels, 3T EVOO, 3/4t salt, 1/2t pepper), spread single layer on cookie sheet, bake at 400ºF for 13 minutes. Flip the sprouts once and grab the unattached brown crispy leaves for snacking. Bake sprouts another 10 minutes or until desired doneness. They'll be brown, almost black, when done.
Cauliflower mashed "potatoes" are good tasting and good for you. Microwave some cauliflower rice (widely available at your local grocery store) or cauliflower florets until soft and tender. Mix in unsweetened almond milk, EVOO and garlic to taste.
I satisfy my cravings for Fried Rice easily. Combine cauliflower rice with cooked brown rice at a 1:1 ratio. Saute together in EVOO with fresh green onion, ginger, and roasted veggies of choice (recipe above). Add soy sauce or Braggs aminos, turmeric and black pepper to taste. If you like, add fried egg or cooked chicken for a more filling meal. Yes, these are animal products.  I'm not a tofu fan, nor a vegan, so I occasionally splurge:).
Super salad is super easy. Big bowl, mixed greens of choice, fresh veggies of choice and a drizzle of homemade salad dressing! My favorite is EVOO mixed 1:1 ratio with balsamic vinegar and a sprinkle of dehydrated shallot. I always take this mix with me in a small Tupperware container when dining out. A screw on lid is best, inside sandwich bag for extra protection from drips. I use this mix as salad dressing and also to dip bread!
As you can tell, I really like recipes by Angela Liddon "Oh She Glows" blog. So much so that I bought her cookbook "The Oh She Glows Cookbook" which some of these recipes are found in. I also plan to check out more recipes from Jessica In The Kitchen.
Happy cooking! Adjust the recipes to your taste, I do. I hope you find these helpful and yummy!