Handy kitchen tools for creating amazing plant-based, whole food recipes!  See some of my favorite recipes here.
Traditional Blenders
I have the Ninja Bullet model MB1001. It works great for single smoothies and small blends of homemade hummus or cashew sour cream. My 14 year old makes milkshakes. I haven't tried it myself yet but it should also work well for small batches of homemade peanut butter/almond butter.
My Ninja is an old model. Here are a couple new model choices:
https://www.amazon.com/Magic-Bullet-MBR-1701-17-Piece-Express/dp/B001WAKFDY/ref=sr_1_9?s=home-garden&ie=UTF8&qid=1518980269&sr=1-9&keywords=
https://www.amazon.com/Magic-Bullet-Blender-Small-Silver/dp/B012T634SM/ref=sr_1_4?s=home-garden&ie=UTF8&qid=1518980269&sr=1-4&keywords=Magic+bullet+mb1001
I also have a Vitamix blender and an Oster Versa blender that I use for bigger jobs (my giant 'go to' smoothie which is about 32-38 oz.). Both can make smoothies, soups, dips/spreads but the Oster is easier on the budget!
https://www.amazon.com/Oster-BLSTVB-RV0-000-Performance-1400-watt-BLSTVB-RV0/dp/B00EO1AQUU
amazon.com/Vitamix-Professional-500-Blender-Black/dp/B013M4VW5C/ref=sr_1_1?s=home-garden&ie=UTF8&qid=1529464274&sr=1-1&keywords=vitamin%2B500&th=1
Immersion Blender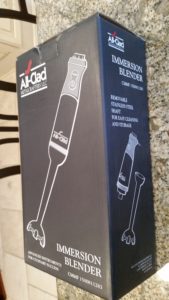 I've found an immersion blender a great help on recipes and soups that call for you to batch blend them in a traditional blender. It avoids the step(s) of transferring hot food from pan to blender and back again which, for me, risks a serious burn or sloppy mess! From experience, make sure to keep the immersion blender pointed down when using it or you risk the same thing. I added the immersion blender to my kitchen over a year ago. Never regretted it, but it's funny because I didn't know I wanted one until I got it. Great for cauliflower mashed potatoes in addition to the recipes here. Lots of choices on immersion blenders. This one was spendy ($100 retail at WS but 20% off coupon made it $80) but I chose this one for ease of cleaning and WOW is it easy to clean:
https://www.williams-sonoma.com/products/all-clad-immersion-blender/?catalogId=43&sku=7092919&cm_ven=PLA&cm_cat=Google&cm_pla=Electrics%20%3E%20Blenders&kwid=productads-adid%5E225852450180-device%5Ec-plaid%5E334785560063-sku%5E7092919-adType%5EPLA&gclid=EAIaIQobChMIkdOs8aXh2wIVy7bACh1X_AnGEAYYAiABEgL51_D_BwE&cm_ite=[7092919]&rd=Y
or
https://www.amazon.com/All-Clad-Stainless-Immersion-Detachable-600-Watts/dp/B007R2E47Y/ref=asc_df_B007R2E47Y/?tag=hyprod-20&linkCode=df0&hvadid=167141308073&hvpos=1o1&hvnetw=g&hvrand=3919454079751547217&hvpone=&hvptwo=&hvqmt=&hvdev=c&hvdvcmdl=&hvlocint=&hvlocphy=9019688&hvtargid=pla-298220568194&psc=1
Juicer
I've started juicing in the last year and found I really like it.  It takes more time – preparation and juicing – than a making a smoothie (just toss your ingredients in the blender and push start!) but is a less filling way to drink a boatload of nutrients.  Plus, I use different recipes for my juices than my smoothies which adds to the variety.  There are two primary types of juicers, centrifugal and masticating.  Centrifugal are faster, louder and make a great juice.  Masticating are slower, quieter and get more nutrients out of your produce than centrifugal.  After researching juicers, I decided to go with a popular masticating juicer (over 3000 positive reviews on Amazon).
https://www.amazon.com/Omega-J8006-Dual-Stage-Masticating-Revolutions/dp/B001L7OIVI/ref=asc_df_B001L7OIVI/?tag=hyprod-20&linkCode=df0&hvadid=167151781903&hvpos=1o1&hvnetw=g&hvrand=12222679372466111918&hvpone=&hvptwo=&hvqmt=&hvdev=c&hvdvcmdl=&hvlocint=&hvlocphy=9019688&hvtargid=pla-273133836649&psc=1
I haven't regretted my decision on the juicer, however, I do wish the process was faster.  I juice 1-2 times a week and create enough juice in one session for 3+ 16 oz. drinks.  I really like doing things in batches because then I have food/drink readily available when I'm on the run (or starving).  I prefer playing over cooking!  I've read you get the most nutrients out of drinking your fresh juice within 20 minutes of juicing but that some juice can be stored up to 3 days.  I go with the 3 day rule.
Mason Jar Glasses
I found these babies at Target and went back for more!  They work perfectly for drinking/storing my smoothies and juices.  Just make sure to get a skinny straw brush for cleaning!
https://www.target.com/p/ball-174-set-of-4-16oz-drinking-mason-jars/-/A-49139681
https://www.target.com/p/ball-174-set-of-8-regular-mouth-plastic-storage-caps/-/A-14898082
https://www.luckyvitamin.com/p-1901941-ball-regular-mouth-mason-jar-sip-straw-lids-4-piece-s?site=google_base&LanguageCode=EN&locale=en-US&utm_source=google&utm_medium=PLA&scid=scplp168616&sc_intid=168616&utmp_campaign=SC_Shopping_Campaign_CS25&branded=no&gclid=EAIaIQobChMI3cTjt53o2wIVAr7ACh2sVgCkEAYYASABEgL92PD_BwE
(these sip & straw lids were at my local Target store but I couldn't find them on the Target website)
https://www.target.com/p/oxo-water-bottle-cleaning-set/-/A-14757317